See on Scoop.it – elearning stuff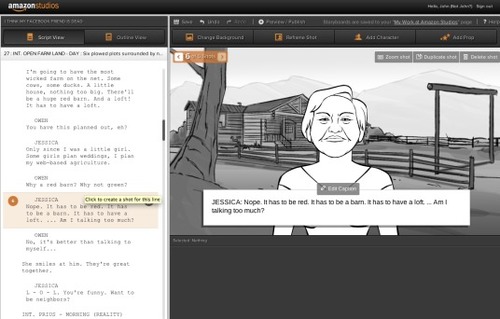 Excerpt from review article by VentureBeat:
"Upload your script, choose some backgrounds, and magically created a professional-looking storyboard of your movie. Or the graphic novel version of your text-based anything.
Amazon Studios released Storyteller today to allow writers and filmmakers to quickly, easily — and cheaply — storyboard their scripts.
Roy Price, Amazon's director of Studios said: "Storyteller provides a digital backlot, acting troupe, prop department, and assistant editor — everything you need to bring your story to life."
You start by uploading a script to Amazon Studios — or by playing with one that's already there. Then simply page through the script paragraph by paragraph. Storyteller will try to match up characters, props, and background with the words in each chunk of text, and it does a surprisingly good job.
But if you don't like what Storyteller gives, you can choose from its library, or even upload your own custom background or characters. Currently, the software has a library of thousands of props, characters, and backgrounds…"
Read full review article: http://venturebeat.com/2013/06/07/amazon-launches-storyteller-to-turn-scripts-into-storyboards-automagically/
Learn more and try out Storyteller: http://studios.amazon.com/storyteller
See on venturebeat.com