See on Scoop.it – E-Learning and Technology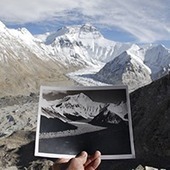 An online exploration of Mount Everest and its glaciers presented by David Breashears, founder of GlacierWorks, and Internet Explorer.
Mark Rollins's insight:
A fantastic resource for geography, geology and glacialogy.
Glacier Works, Microsoft, and David Breashears have collaborated to develop a great new site called Everest: Rivers of Ice. Everest: Rivers of Ice is an interactive site that takes visitors on a virtual trek to Mount Everest base camp. There are eight stops along the way to base camp. At each stop viewers can explore panoramic images of valleys and glaciers. After completing the virtual trek to base camp viewers can compare the size of Himalayan glaciers in the 1920's to the size of those same glaciers today.
See on explore.glacierworks.org